About Us

Albright's Mill LLC is located in the village of Kempton, a rural community in east central PA – 70 miles northwest of Philadelphia. The mill has provided products and services for the agricultural needs of the area since 1964. Albright's Mill LLC also manufactures it's own line of high quality animal feeds, concentrates, and custom feed blends.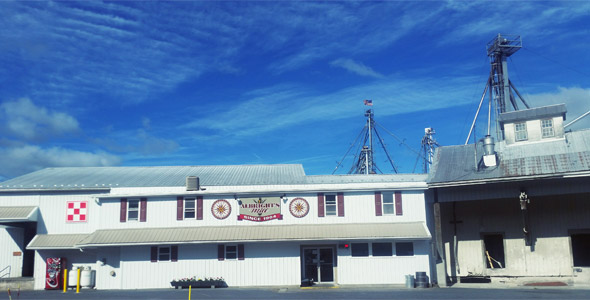 Albright's Mill LLC has been operating under the current ownership for over 40 years. We buy and sell grain and provide drying and storage facilities. We also offer animal feed and products, seeds, fertilizer and coal. Our feed mill manufactures it's own line of Albright's Quality animal feeds, concentrates, and custom feeds. Our products are made with the grain we buy from local farmers, making it fresh and affordable. In addition to our own feeds, we proudly provide a complete line of Purina Products. We have served the area as a Purina Dealer since 1974. So whether you are feeding livestock, pets, exotic animals or wildlife, we have feed to suit all your nutritional needs.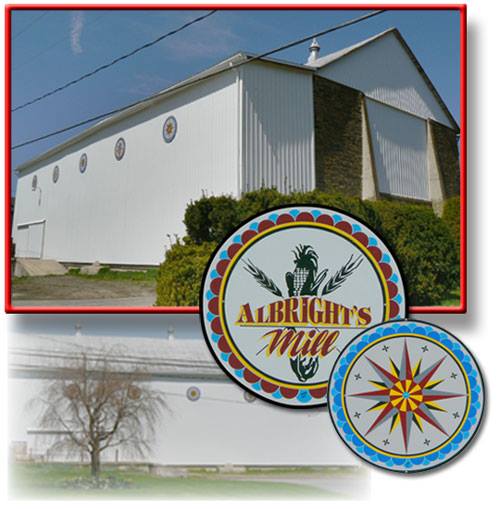 Our newly renovated warehouse barn along Route 737 is decorated with hex signs that were created by local artist Jonathan Bond (shown on right). You can learn more about this artist here: www.jonathanbond.com.
During the early 1900's, due to railroad facilities, a large portion of the activity of the mill business was the shipping of potatoes and grain to brokers in the Philadelphia area. Other activities were retail sales of feed, lumber, building materials, and coal.
The Albrights and later the Wessners continued to operate a General store in the 2nd floor of the building, selling groceries, dry goods and hardware until Nov.1,1986. The Mill housed the Kempton Post Office from the early 1900's until the mid 1960's. The photo dating from the 1950's shown below on the left indicates Lenore "Dixie" Wessner (Butch's mother) sorting the mail. The orginal Post office door is still in use today as an entry to the store (pictured below on right).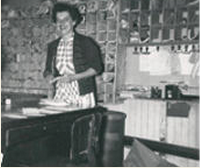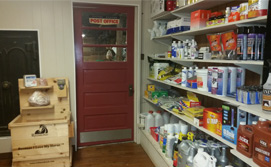 In the 1960's, after the business was taken over by Robert G. & Ronald R. Wessner, the type of business changed. A grain elevator was established, hence, the buying and selling of corn, wheat, soybeans, oats and barley with grain drying and storage facilities available. Recent ownership has been split between Ronald and his son Gary Wessner. Custom milling and retailing of animal feeds also became a major portion of the business. Currently, in addition to the aforementioned aspects of the business, Albright's Mill LLC also retails fertilizer, seed, coal, and farm supplies. We strive to continue serving our customers with quality products and services.
Albright's Mill LLC, where it's stood since 1887, continues to "stand strong" in the tradition of providing quality products and services to our customers today.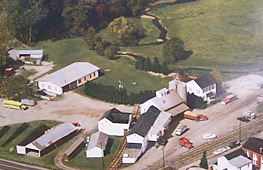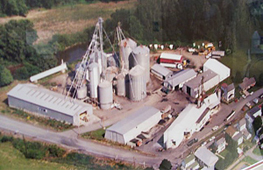 These aerial photos of Albright's Mill reflects our growth since 1960 (left) to 2000 (right).